Franklin Public Library
32455 Franklin Rd
Franklin, Michigan
Franklin Public Library was started at Franklin School (now Huda School & Montessori, on Franklin Rd) by the PTA, with a collection of donated books. In 1931, a shed attached to a house at Thirteen Mile Rd and Wellington Rd was moved to the current spot and placed on the foundation of the Sam Green House. The structure first served as a real estate office for George Wellington Smith.
In 1938, G.W. Smith gave the building to the Franklin PTA for the two-year-old library. In 1939, it was expanded and remodeled to serve as Village Office, Police Station and Library. By the end of 1939, the school's PTA had turned the library collection over to an executive board, which hired Margaret DeView, a Franklin resident, as librarian. The collection amounted to 755 books (100 on loan from the State Library) and 157 villagers were registered as patrons.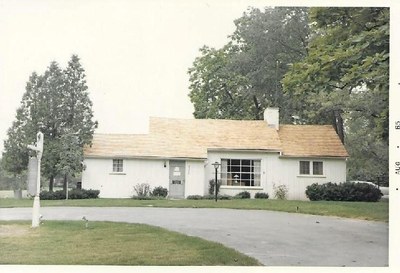 Franklin Public Library in 1965
In 1973, the Village Office and Police Station relocated at the Broughton House (32325 Franklin Rd, still Village Office as of today). The Franklin Community Library Association turned over all its corporate assets and its holdings to the Village of Franklin, and officially became Franklin Public Library. In order to increase memberships and services, the library joined an area system called WOLF (Wayne Oakland Library Federation).
In 1984, the first professional librarian was hired. By 1991, the library was fully automated with an electronic catalog, and opened 41 hours per week. The collection had risen to 13,691 volumes!