To register for any program please call the Library
at (248) 851-2254 or click on the link (see each program).
Registration required for all children's programs except Story Time.

Play Group


Fridays
January 10 - February 14
10:30  am - 11:45 am
The playgroup is designed to increase one-on-one parent-to-child interaction and to promote literacy and learning activities, including; hands on activities, stories, songs, music and dancing.  There is also a teaching component for parents to better understand how children learn, their physical abilities, relationships/sense of self, communication and understanding of the world.  Registration required.
Call 248-851-2254  or click HERE to register

American Girl Frozen Party


Saturday, February 15
2:00 PM
We've combined two of our favorite things into one fabulous party. Now that Frozen 2 is out, bring your American Girl doll, or any doll or stuffed animal to our Frozen themed party. We'll create some crafts, read a story or two and have a snack.
Franklin residents may register anytime. All others may register beginning February 1.

Photos: courtesy of the Burton Historical Collection, Detroit Public Library, and Ken Coleman.
A Black
History
Month
Program
Black Bottom & Paradise Valley: Detroit's Lost Communities
Tuesday, February 4
7:00 PM
Ken Coleman, an award-winning historian and journalist from Detroit, will come to the Library to talk about the history of the Motor City's leading Black communities during the 1930s, '40s and '50s.
Register at (248) 851-2254 or click HERE.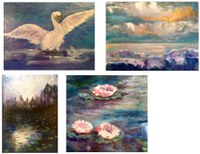 Fine Art Encaustic Painting Demonstration


Tuesday, January 21
7pm
Join us as mixed media artist and gallery owner Jacqueline Drake presents a fine art encaustic (wax) painting demonstration. Encaustic painting is a mixed media technique that involves using heated beeswax to which colored pigments have been added. 
All are welcome.
Book Group
Thursday, January 23
7:30 pm
Join Adele Robins as she discusses this month's selection "The Overstory," by Richard Powers. "Nine strangers--each summoned in different ways by trees--are brought together in a last and violent stand to save the continent's few remaining acres of virgin forest." 
All are welcome to the discussion.