CLUBS MEETINGS TAKE PLACE INSIDE THE LIBRARY OR IN THE LIBRARY READING GARDEN.
NEEDLECRAFT CLUB
NEXT MEETING
Tuesday, May 2
6PM
Are you into sewing, crocheting, knitting, embroidering, felting and all things needlecraft? Join the NEEDLECRAFT CLUB!
Nadia, owner of Pursewing Happiness, will facilitate the meetings. Bring your craft with you! Share ideas, addresses and more, while needlecrafting and chatting away!
ANTI LOOSE MARBLE CLUB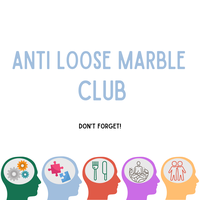 NEXT MEETING
Thursday, April 20
2PM
You have the power to take charge of your brain health. Regardless of your age or background, there are simple steps you can take to help lower your risk of cognitive decline and Alzheimer's disease. One of them is to join a Brain (or Memory) Club. We are here to help!
Beth, one of our substitute Library Assistants, along with husband Jeff, will run the club meetings.
No sooner than agreeing to facilitate the club, Beth set on a quest for activities, books and games. She even decided on a special name: The Anti Loose Marble, or ALM Club! Participants will be in for a very stimulating time!