The library is now offering live programs!
See current programs below.
We will use the Zoom platform to host these events. This works in most web browsers, and there is also a free app for your desktop computer or mobile device (iOS / Android).
You do not need to pay for an account or to set up an account to take part.
How to use Zoom and join classes :
Step 1:
From you computer: click directly on the link.This will take you to the Zoom platform in your web browser, then follow the directions.
Note for PC/Mac: Although not required to attend via the desktop, you can download the web browser. Go to https://zoom.us/download and click 'Download' under Zoom Clients for Meeting.
On your smartphone: download Zoom (do this ahead of your first streaming class.)
iPhone: search in the App Store for 'ZOOM Cloud Meetings' and click 'Get'
Android: search in Google Play for 'ZOOM Cloud Meetings' and click 'Install'

Step 2: Click on the link indicated in the Program description, or provided to you when you registered.

On internet, you will get the message 'Please Click Open Zoom Meetings if you see the system dialog' (a small pop up window near the browser). Otherwise click where indicated. 
On your iOS or Android, simply click and wait for Franklin Public Library or the host/hostess of the day to start the session.
ADULTS PROGRAM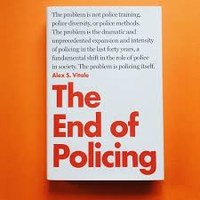 BIOGRAPHY BOOK GROUP
Book: The End of Policing by Alex S. Vitale
Thursday, August 13
1PM
Please join us in exploring the controversial topic of policing in America. 
The End of Policing examines the nature of modern policing and questions the demands, responsibilities and expectations we have for our nation's police forces.  Can improvements in community empowerment and social justice help solve our current problems?
Virtual program via Zoom: please register
HERE
.