Biography Book Group: Katie Luther, First Lady of the Reformation. Hosted by Suzanne.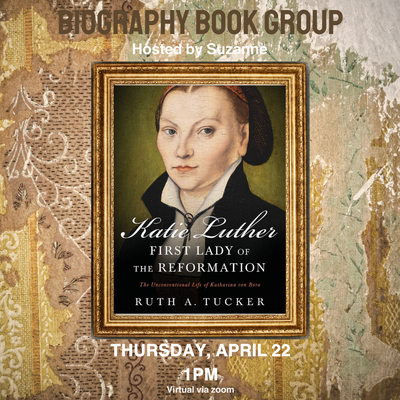 Biography Book Group April discussion with Suzanne.
When

Apr 22, 2021

from 01:00 PM to 02:30 PM

(US/Eastern / UTC-400)

Where

Virtual via Zoom

Contact Name Florence
Contact Phone

248-851-2254

Add event to calendar

iCal


Register
Katie Luther, First Lady of the Reformation: The Unconventional Life of Katharina von Bora
By Ruth A. Tucker
Katharina von Bora, was by any measure, the First Lady of the Reformation. But she was also, by all accounts, not the sweet, submissive, subdued, pious woman that many people mistakenly assume the great reformer Martin Luther must have married.
Katie was a strong woman with a mind of her own. She was a farmer, a brewer, and the proprietor of a large boarding house-along with being a mother and a decisive and supportive wife to Martin Luther
Her experiences echoes among lives of modern women who struggle to carve out a career of their own and not be overwhelmed by society's expectations nor overshadowed by their husband's accomplishments.
Please join us in learning more about this fascinating, no-nonsense, confident and determined woman who thrived beyond all expectations in her sixteenth-century village life.