Biography Book Group: Nonbinary: Memoirs of Gender and Identity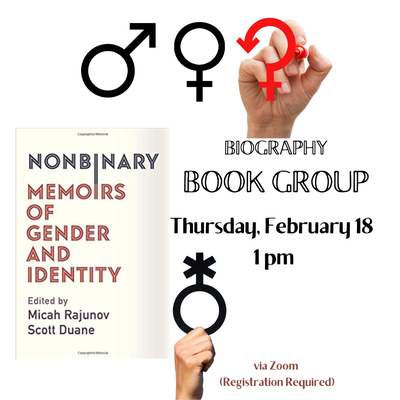 Our bi-monthly Biography Book Group with Suzanne, currently virtual via Zoom.
When

Feb 18, 2021

from 01:00 PM to 03:00 PM

(US/Eastern / UTC-500)

Where

Virtual via Zoom

Contact Name Florence Rouquet
Contact Phone

248-851-2254

Add event to calendar

iCal


Register
What happens when your gender doesn't fit neatly into the categories of male or female? 
In this groundbreaking book, thirty authors highlight their experiences and how their identities are shaped, and challenged,
living in a deeply entrenched gender binary world. 
Labeled gender outlaws, gender rebels, genderqueer, or simply human, the voices in 
Nonbinary
 illustrate what life could be if we allowed the rigid categories of "man" and "woman" to loosen and bend.
Please join us in increasing our k
nowledge and 
understanding
 of this complex, fascinating, and increasingly relevant, topic.     
Nonbinary 
is a beautiful collection, filled with moving and personal stories from life outside the binary. Reading it felt like coming home to a community I'd always longed for. Folks from all across the gender spectrum should dive into these gorgeous insights and revelations about living a life of authenticity. -- Jill Soloway, creator of 
Transparent