Biography Book Group: The Only Woman in the Room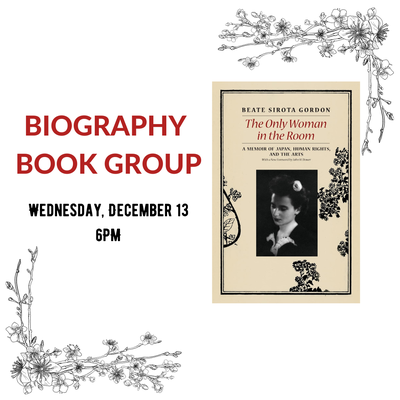 Join us for a discussion on Beate Sirota Gordon's Book.
When

Dec 13, 2023

from 06:00 PM to 08:30 PM

(US/Eastern / UTC-500)

Where

Franklin Public Library

Contact Name Florence
Contact Phone

248-851-2254

Add event to calendar

iCal
In 1946, at age twenty-two, Beate Sirota Gordon helped to draft the new postwar Japanese Constitution. The Only Woman in the Room chronicles how a daughter of Russian Jews originated from Vienna became the youngest woman to aid in the rushed, secret drafting of a constitution; how she almost single-handedly ensured that it would establish the rights of Japanese women; and how, as a fluent speaker of Japanese and the only woman in the room, she assisted the American negotiators as they worked to persuade the Japanese to accept the new charter. But this was only one episode in an extraordinary life, and when Gordon died in December 2012, words of grief and praise poured from artists, humanitarians, and thinkers the world over. The Only Woman in the Room captures two cultures at a critical moment in history and recounts, after a fifty-year silence, a life lived with purpose and courage.
EVERYONE WELCOME. Snacks and refreshments provided.