Overshopping / Overspending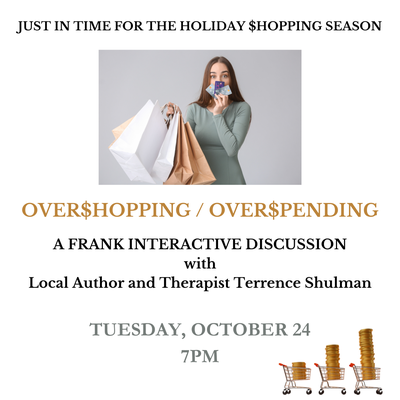 JUST IN TIME FOR THE HOLIDAY $HOPPING SEASON.
Overshopping / Overspending
2023-10-24T19:00:00-04:00
2023-10-24T20:30:00-04:00
JUST IN TIME FOR THE HOLIDAY $HOPPING SEASON.
When

Oct 24, 2023

from 07:00 PM to 08:30 PM

(US/Eastern / UTC-400)

Where

Franklin Public Library

Contact Name Florence
Contact Phone

248-851-2254

Add event to calendar

iCal
A FRANK INTERACTIVE DISCUSSION with Local Author and Therapist Terrence Shulman.
How much would you have to buy in order to fill the emptiness you feel? Are you allowing others, advertisers and our consumer culture to define you? Terrence Shulman has extensive experience helping recovering overspenders and overshoppers, and has been featured as an expert on The Today Show, The Early Show, MTV, and more. Terrence can help you beat your spending/shopping addiction and give you the tools you need to live the life you want to live. Find out if you are a compulsive shopper or spender.
EVERYONE WELCOME.