Biography Book Group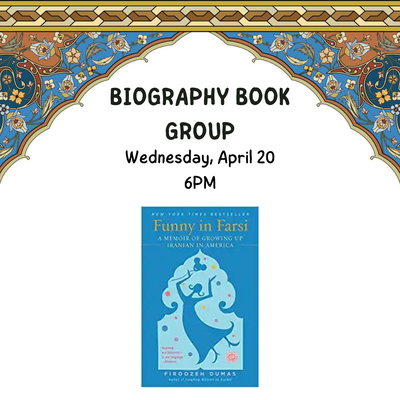 Bi-monthly book discussion.
Biography Book Group
2022-04-20T18:00:00-04:00
2022-04-20T19:30:00-04:00
Bi-monthly book discussion.
When

Apr 20, 2022

from 06:00 PM to 07:30 PM

(US/Eastern / UTC-400)

Where

Franklin Public Library

Contact Name Florence
Contact Phone

248-851-2254

Add event to calendar

iCal
This lighthearted memoir chronicles the author's move from Iran to America in 1972 at age seven, the antics of her extended family and her eventual marriage to a Frenchman. Firoozeh's father truly believed that America was the country for him, and his English would be enough to get him and his family by. Unfortunately, it wasn't and Firoozeh was tasked with adjusting to American culture herself, leading to many humorous, and awkward, encounters.
ALL ARE WELCOME.