Computer Class: WORKING WITH PICTURES ON WINDOWS 10 and 11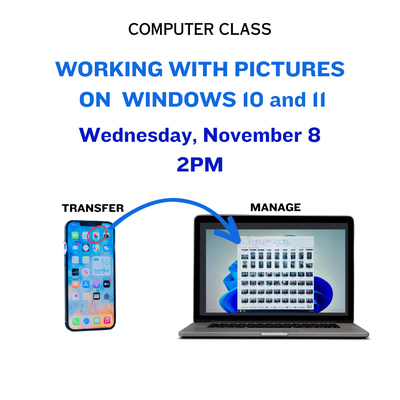 Learn to manage your pictures.
When

Nov 08, 2023

from 02:00 PM to 03:00 PM

(US/Eastern / UTC-500)

Where

Franklin Public Library AND virtual via zoom (HYBRID)

Contact Name Florence
Contact Phone

248-851-2254

Add event to calendar

iCal


Register
Learn how to transfer iPhone and Android pictures on your computer, and how to manage them in Windows: name and move pictures into folders to get organized; use the Photo Gallery and minor editing of pictures. Use pictures for desktop backgrounds and insert a picture into Microsoft Word to manipulate for flyers, invitations, and other printed materials.
This class will be HYBRID: come to the library and meet Mike, our computer nerd in person, or attend from the comfort of your home through zoom. If you prefer to attend virtually, please register to obtain a zoom link (in-person participants do not need to register).
NOT FOR APPLE/MAC USERS. PLEASE BRING YOUR WINDOWS 10 or 11 LAPTOP.
EVERYONE WELCOME.