Titles with Tara Book Club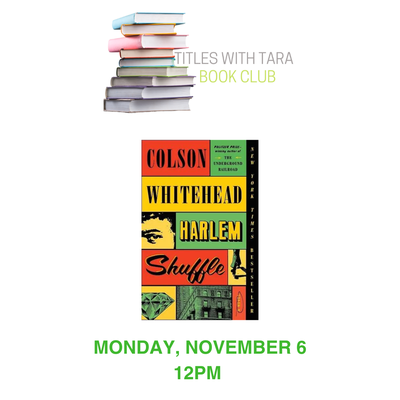 Book: Harlem Shuffle by Colson Whitehead.
Titles with Tara Book Club
2023-11-06T12:00:00-05:00
2023-11-06T13:30:00-05:00
Book: Harlem Shuffle by Colson Whitehead.
When

Nov 06, 2023

from 12:00 PM to 01:30 PM

(US/Eastern / UTC-500)

Where

Franklin Public Library

Contact Name Florence
Contact Phone

248-851-2254

Add event to calendar

iCal
This novel is a follow-up to Whitehead's book The Nickel Boys, which won him a second Pulitzer Prize for Fiction. Ray Carney is a furniture salesman in 1960's Harlem, struggling to make ends meet. With the help of his misfit cousin Freddie, Carney deals in stolen jewelry on the side. After a crew of bandits raid the Hotel Theresa, Carney hopes his involvement does not lead to his own murder. Although Carney engages in criminal misdeeds, he's a sympathetic character in part because he is a family man. With his wife Elizabeth, he has a second child on the way. If Carney manages to stay alive, his double life may be discovered.